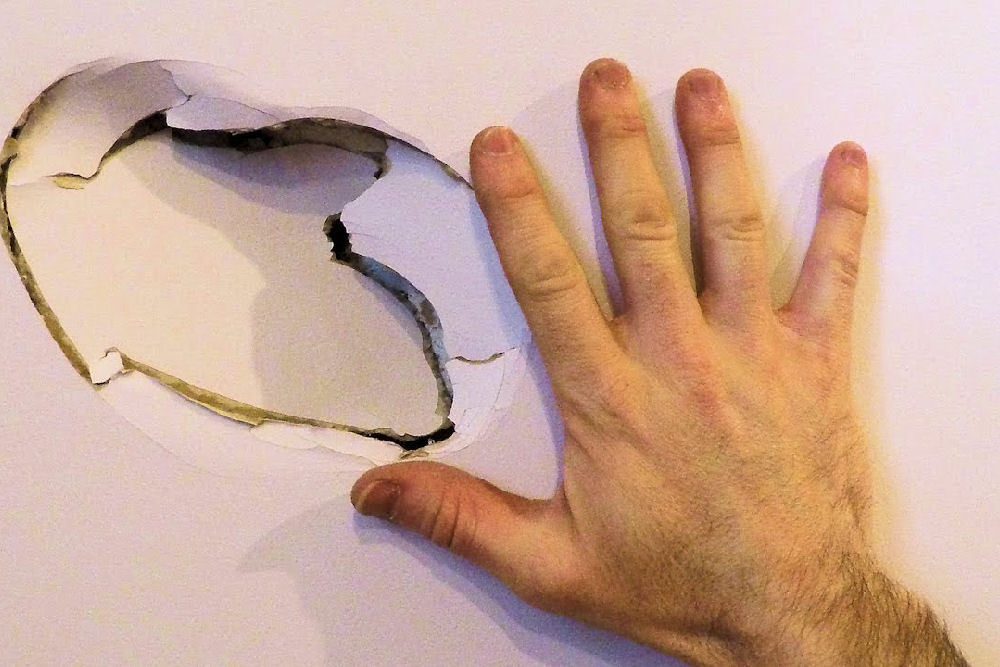 Plasterboard is the most commonly used material for finishing the inside of houses in the UK. Whether it's plastered or just taped up, it provides a really nice surface to paint and decorate to make your home look beautiful. Unfortunately though, it isn't indestructable and can easily get damaged through various methods. The most common cause of plasterboard damage is through damp. Due to the porous nature of plasterboard it absorbs water until it is fully saturated. As more and more moisture is collected it balloons and it is very difficult to dry it out without staining and an obvious patch on your wall or ceiling where the plasterboard has warped.
Another common cause of damage on plasterboard is either deliberate or accidental from objects being bashed against the wall. This can be as simple as moving a large table or chairs through to somebody getting angry enough to throw something against the wall (or even punch a hole in it). All these things are very common but, luckily, they are relatively easy to fix with the right equipment and the right know-how!
Due to the porous nature of plasterboard it absorbs water until it is fully saturated'
Age, subsidence, incorrect application and various other factors can cause plasterwork to be damaged over time. This can leave very unsightly cracks and holes within your plasterwork which are very difficult for a DIY'er to repair. However, many people give repairing plasterwork a go and, with care and the right tools it certainly is a very accessible job to do yourself. It depends on the size of the hole or cracks as to whether it's something you should try yourself. Also, whether the actual plasterboard is damaged so much that it needs replacing.
If plasterboard has got damp due to a burst pipe or overflowing bath or sink then it quite often requires cutting out and replacing and then re-plastering and re-painting in order to get an effective repair. However, if the plasterwork has just sustained a small hole or gouge, maybe due to someone punching a wall or being clumsy whilst carrying something heavy, then it is possible to buy pre-mixed plaster repair kits and have a go and repairing it yourself.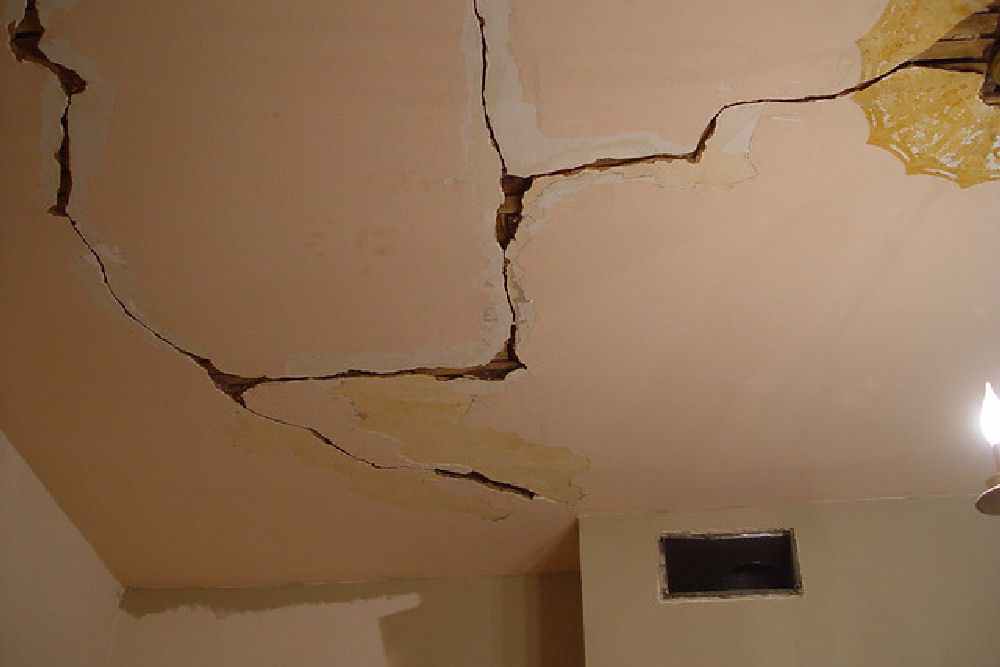 If plasterboard has got damp due to a burst pipe or overflowing bath or sink then it quite often requires cutting out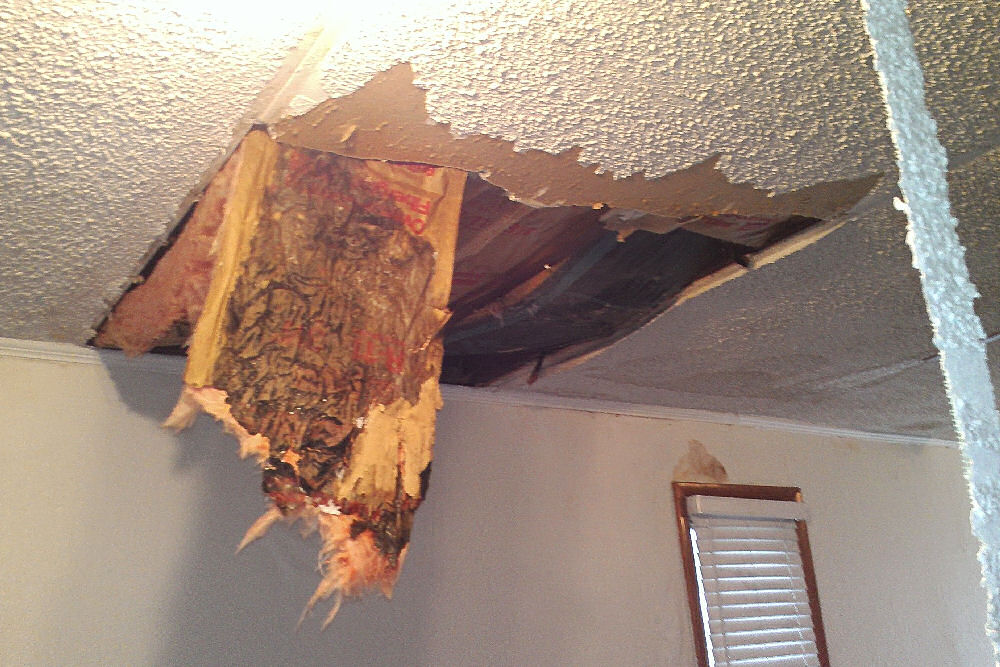 Obviously the more serious damage will require professional attention. Even with small repairs you'll quite often get a better finish by getting in the professionals. Here at Fife Joinery Services we have excellent tradespeople who have many years experience repairing plasterwork within all types of premises. So, if you don't fancy watching a hundreds of YouTube videos, buying the correct tools, mixing up plaster in your house and having a go yourself then please feel free to get in touch with us via the website or phone and we will be all too happy to come and repair the damage ourselves for you.
We can repair collapsed ceilings, fallen tree damage, burst pipes and leaking water damage, fire damage or just carelessness. And we take on jobs of all sizes from repairing small cracks or holes in your walls to fully replacing your ceiling. Our service is second to none and we always leave a happy customer (just read our testimonials!) so please get in touch and let us take care of your plasterboard repairs.
"I was recommended Fife Joinery Services from a friend and I'm very happy that I decided to use them to lay my laminate and do my skirting. They were excellent."
Mrs. P – Kirkcaldy
"Would use again. Very personable. He takes great care in his work. Highly recommended. Really good workmen. Very nice & clean. They listen to you and appreciate what you want doing."
PR – Leven
"I approached Fife Joinery Services to convert my loft. I was surprised just how quickly and cleanly the job was done. They worked extremely hard and I have now asked them to convert my garage to a family room."
Mike S – Stirling
Satisfaction Guarantee
We are deeply conscientious and don't consider a job finished until you are entirely satisfied.
A One-Stop Shop
We are "all trades" specialists which means that whatever the job, big or small, residential or commercial, we can provide the solution you need.
Free Consultation
We provide a free, no-obligation quote for any work that you require. You have nothing to lose contacting us and letting us show you how we can help.

Let us give you a free quotation and show you why Fife Joinery Services are the best in Fife!