House rewiring and electrics
Does my house need rewiring?
Faulty wiring in a home can be extremely dangerous. Not only is there a chance of an electric shock, which can easily be fatal, there is also a big risk of fire. Every year faulty wiring causes over 12,500 house fires, more than 30 fatalities and over 750 accidents in the home.
If you are a fully qualified electrician then you can certainly complete a full rewire yourself. It is a lot of work for one person but is possible with a bit of help. There are also college courses to become a qualified electrician which would allow you to complete the work yourself.
Every year faulty wiring causes over 12,500 house fires
Some indications that your house need updating are things like:
An old-fashioned fuse box rather than a modern consumer unit. The old versions of these can have a wooden back, ceramic fuses, cast iron switches, black electricity cable or no labelling.
Out of date plug sockets or broken / cracked sockets and rounded holes rather than the modern 3-pin types.
Breakers that trip repeatedly or fuses that blow regularly
Old cable colours or aluminium wiring. Also missing earth cables from lights.
Flickering or dim lights with bulbs that regularly need changing
Switches that crackle when you switch them on and off
If you aren't able to tackle the job yourself then you've come to the right place. Here at Fife Joinery Services we supply 'all trades' which means we are able to provide fully qualified electricians in order to rewire your home with the minimum of cost and fuss. The most common question regarding home electrics is "how much would it cost to rewire my house?". This is a difficult question to answer because it depends on a lot of factors. The age of the property, the number of bedrooms, whether the house is occupied or vacant etc. However, we do provide a no-obligation quotation with all our work so, if you do want to know how much it would cost to fully rewire your home, then just get in touch and we'll happily tell you.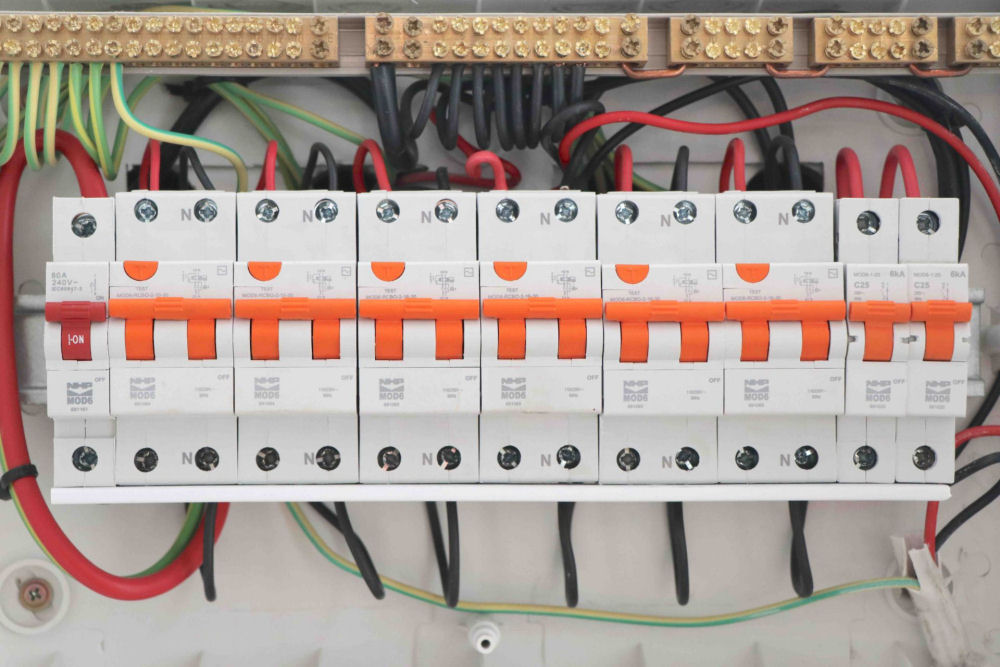 The most common question is "How much does a house rewire cost?"
Ofcourse, our electrical capabilities do not end with rewiring houses and we are able to complete any kind of electrical work in either your home or business. We can tackle jobs of all sizes so, if you simply want a new socket adding, or a socket moving, or perhaps you want security lighting on your business premises, then please get in touch.
Even house rewiring can be completed as a collection of smaller jobs in order to cut the cost. Perhaps you would like your consumer unit changing or a new circuit installing for an electic cooker or shower. These are very difficult jobs for a DIY'er and require official sign off in order to prove them safe.
Our team of experts are always on hand to support you with any work you need 7 days a week and 365 days a year. We can perform emergency electrical work as well as planned jobs. Get in touch on 07831 544 009 for our emergency service alternatively just contact us through our website for a free quotation.
"I was recommended Fife Joinery Services from a friend and I'm very happy that I decided to use them to lay my laminate and do my skirting. They were excellent."
Mrs. P – Kirkcaldy
"Would use again. Very personable. He takes great care in his work. Highly recommended. Really good workmen. Very nice & clean. They listen to you and appreciate what you want doing."
PR – Leven
"I approached Fife Joinery Services to convert my loft. I was surprised just how quickly and cleanly the job was done. They worked extremely hard and I have now asked them to convert my garage to a family room."
Mike S – Stirling
Satisfaction Guarantee
We are deeply conscientious and don't consider a job finished until you are entirely satisfied.
A One-Stop Shop
We are "all trades" specialists which means that whatever the job, big or small, residential or commercial, we can provide the solution you need.
Free Consultation
We provide a free, no-obligation quote for any work that you require. You have nothing to lose contacting us and letting us show you how we can help.

Let us give you a free quotation and show you why Fife Joinery Services are the best in Fife!