Real wood floor, laminate floor or carpeted floor?
Real wood floor, laminate floor or carpeted floor?
When you replace a floor there are three main choices, carpet, laminate or real wood. All of the choices have associated pro's and con's so it is worth taking the time to consider which solution is best for you and your home.
Wooden flooring is very aesthetically pleasing and can bring elegance and style to a home. Real wood is a very natural product and really looks refined and classy when laid correctly. Laminate is extremely versatile and a lot more economically priced than real wood flooring. Carpet is very quick to fit and can come in a range of prices depending on the thickness and type.
If you go down the real wood flooring route then you'll find that, despite the extra cost, you end up with a beautiful flooring that will offer you years of durability. Most types of hardwood flooring are neutral colours and are normally either a golden brown right through to the darker brown colours. You can obviously stain them to any colour you want and, because it's real wood, you can even sand them down in future. There's something very natural about a real wood floor and they are immediately recongisable.
Wooden flooring is very aesthetically pleasing and can bring elegance and style to a home.
Laminate floors are a nice balance of aesthetically pleasing along with being reasonably priced and very versatile. They are suitable for most areas in your home and you tend to choose a laminate that suits the area that it is going to get fitted into. For high traffic areas such as a hallway or living room then a thicker, higher quality laminate is better. But for a bedroom or study then the high durability isn't as important.
One of the big advantages of all wooden flooring is that it doesn't cling to dust and pet hair which really helps if anyone in your family suffers from allergies. Also, some kinds of wood flooring can be using with underfloor heating which makes a really comfortable and relaxing surface to walk on.
Wooden floors require very little maintenance apart from an occasional sweeping or vacuuming. Over time wooden floors can acquire small dents and scratches but, the better quality flooring you install, the less you'll have to worry about these. They can add character to a floor and do not detract from the overall look especially for the real wood flooring.
Carpets are the more traditional flooring of choice. They are immediately warm and inviting and are soft under foot and very nice to sit or lie on. A carpetted room is also better at absorbing sound so if you live in a flat with close-by neighbours then it can be a much more neighbour-friendly choice of flooring.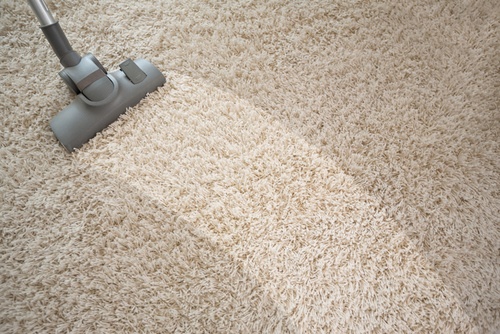 Wooden floors require very little maintenance apart from an occasional sweeping or vacuuming.
Carpets come in a myriad of colours and patterns. Be very wary what you choose as, something too 'out there' can soon become out of fashion and you may find yourself growing tired of the look of it and wanting to replace it. However, carpets are relatively easy to fit and can be quite cheap (depending on brand and type). You also have a lot more choice to blend a carpet with the rest of your room decor and create a real joined-up look to your home.
Carpets generally require a bit more work to keep clean with regular vacuuming necessary to collect dust and pet hair, and also the occasional carpet wash to really blast out the dirt and debris. Carpets are also very easy to stain with a dropped glass of Iron Bru or a kicked over glass of red wine. There are treatments that can be applied to carpets to try and prevent any liquids from staining the fibres so, be sure to invest in these treatments if fitting carpet.
Whatever flooring you choose can really define the look of your home and make your living space much more comfortable. And, of course, if you do decide to fit wooden flooring of any type then get in touch with us at Fife Joinery Services and we can give you the benefit of all our years of experience to make sure you get the very best floor for your budget.
"I was recommended Fife Joinery Services from a friend and I'm very happy that I decided to use them to lay my laminate and do my skirting. They were excellent."
Mrs. P – Kirkcaldy
"Would use again. Very personable. He takes great care in his work. Highly recommended. Really good workmen. Very nice & clean. They listen to you and appreciate what you want doing."
PR – Leven
"I approached Fife Joinery Services to convert my loft. I was surprised just how quickly and cleanly the job was done. They worked extremely hard and I have now asked them to convert my garage to a family room."
Mike S – Stirling
Satisfaction Guarantee
We are deeply conscientious and don't consider a job finished until you are entirely satisfied.
A One-Stop Shop
We are "all trades" specialists which means that whatever the job, big or small, residential or commercial, we can provide the solution you need.
Free Consultation
We provide a free, no-obligation quote for any work that you require. You have nothing to lose contacting us and letting us show you how we can help.

Let us give you a free quotation and show you why Fife Joinery Services are the best in Fife!